There is a travel service center for foreign visitors at Tokyo Station by JR East. It is outside of ticket gates at Marunouchi North Exit. The travel center is separated to three entrances. Tourists information, baggage services and currency exchange are available. It is open from 7:30 to 20:30.
(A) Tourist Information

In addition to various travel brochures, you may find information and guidance on tourist attractions all over Japan with an emphasis on JR East area.
Free Wi-Fi connection is setup for Internet access from the devices you carry.
You may check tourist information from freely accessible computers.
English, Chinese and Korean are available.

(B) Travel Services / Pass Exchange

Rail passes for foreign visitors such as JR East Pass can be purchased or exchanged for. And you may buy JR tickets for any destination in Japan. Hotel booking service and tour packages are also provided.
English, Chinese and Korean are available.

(C) Baggage Services

Temporary baggage storage and luggage delivery services are provided.
Porter services

Available areas: JR East Shinkansen and Narita Express platforms, as well as the Hato Bus loading area.
Reservations available 7:30 – 18:00

English is available.

(D) Currency Exchange / ATM

You may exchange 33 foreign currencies at the counter and 7 currencies on the automatic currency exchange machines.
English is available.
This explain is quoted from an advertisement of JR East Travel Service Center.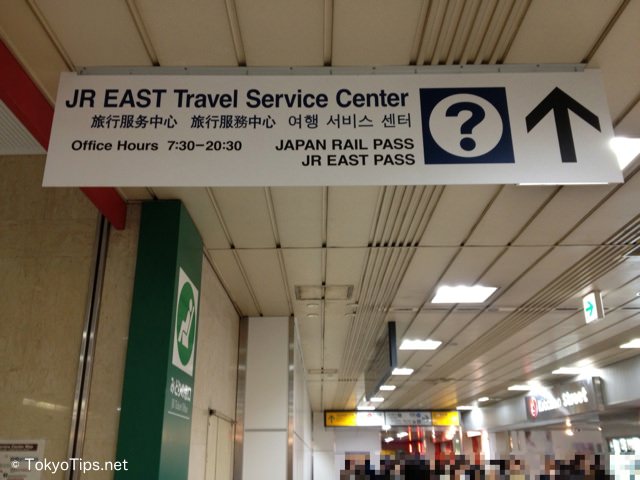 Tokyo Station is a huge station and it is very crowded. Go Marunouchi North Exit at first.