There are many railways and railway companies in Tokyo. They are just like a large net which covers all central Tokyo. And Japanese trains are almost on time. They run independently by different railway companies. But several railway lines run through mutually into different railways. When you move to somewhere in Tokyo, you may be able to choose some ways by fare, time and convenience.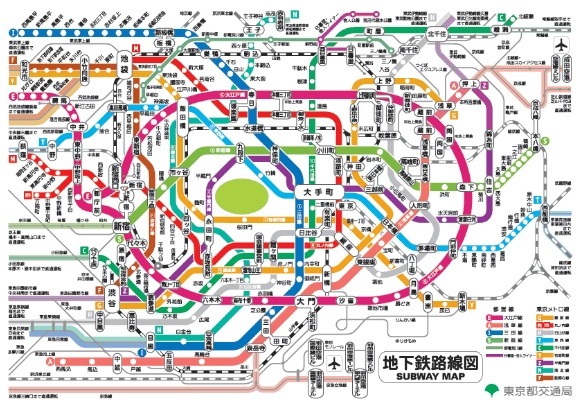 Japan Railways
Japan Railways is the largest railway company in Japan. It is called JR for short. JR was government owned railways formerly. So, JR covers throughout all of this country. When JR was denationalized in 1987, It was divided to 6 companies regionally by the government. JR Yamanote Line is circularity railway in central Tokyo.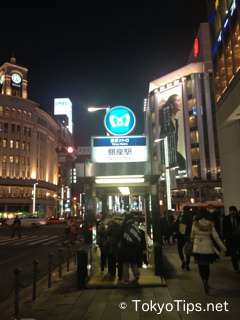 Tokyo Metro
Tokyo Metro is a subway company. There are 9 subway lines by Tokyo Metro, and their trains run intricately under Tokyo. They are color-coded separately.
Toei Chikatetsu
There is one more subway company in Tokyo. It is Toei Chikatetsu. Toei Chikatetsu is owned by Tokyo Metropolitan. Normally you need different tickets to get on Tokyo Metro and Toei Chikatetsu, because they are different operators.
Keisei Dentetsu
Keisei Dentetsu connects between Narita Airport and Ueno. When you go to Ueno Sta. from Narita Airport, Keisei Sky Liner will be the best way. Sky Liner is the fastest train in Japan except for Shinkansen.
Keihin Kyukou
Keihin Kyuko is also called Keikyu for short. Strong red color trains are characteristic. Keihin Kyuko runs from south of Tokyo to Yokohama, Yokosuka and Haneda Airport. Keihin Kyuko has many stations as compare with others. Distance of neighboring stations is very close. You can see next station in your eyes.
Tokyu Dentetsu
Tokyu Dentetsu has 2 major lines and some minor lines. Tokyu Dentetsu connects Shibuya and Yokohama. Toyoko Line runs from Shibuya Sta. to Yokohama Sta. Den-en Toshi Line runs from Shibuya to inland area of Yokohama City.
Odakyu Dentetsu
Odakyu Dentetsu connects from Shinjuku Sta. to Hakone. If you go to Hakone from Shinjuku Sta., you can use an express train which is called "Romance Car". Romance Car is popular for which has observation seats at very front of the train. You have to buy an express ticket before you get on Romance Car at the station.
Keio Dentetsu
Keio Dentetsu connects from Shinjuku Sta. to Mt.Takao. If you go to Mt.Takao, you get on Keio Dentetsu to Takaosanguchi Sta. where is the terminal of its line.
Seibu Tetsudo
Seibu Tetsudo connects from Shinjuku and Ikebukuro to west area of Tokyo and Saitama.
Tobu Tetsudo
Tobu Tetsudo connects from Asakusa to Tochigi Pref. If you go to Nikko or Kinugawa, you can get on an express train called Spacia from Asakusa Sta.
Rinkaisen
Rinkaisen is a short railway which connects from Osaki Station of JR Yamanote Line to Odaiba area. There are only 8 stations on this railway. This train runs in an undersea tunnel where is under Tokyo Bay.
Tokyo Monorail
Tokyo Monorail connects between Hamamatsucho Sta. and Haneda Airport. If you go to Haneda Airport from central Tokyo, you can use this monorail or Keihin Kyuko or expressway buses.
Yurikamome
Yurikamome is a new transportation system which connects between Shimbashi Sta. and Odaiba area. A little small train runs on its exclusive guideway by rubber tires without a motorman. So you can sit on the front seats of the train. It is fun. The train is controlled by a central computer system automatically.
Toden Arakawa-sen
Toden Arakawa-sen is a tram which exists one and only one in Tokyo now. One car runs at once a little slowly.
Nippori Toneri Liner
Nippori Toneri Liner is also a new transportation system. Toneri Liner connects from Nippori Sta. to north district of Tokyo.
Shinkansen
Shinkansen are super express trains which connect between Tokyo and countrysides by JR. Express fare is need to get on Shinkansen.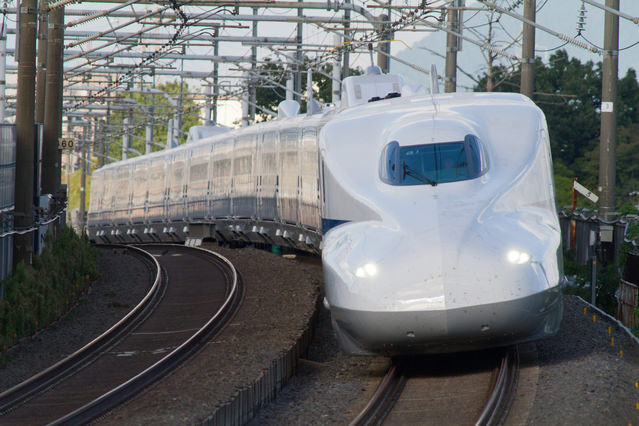 JR Tokai has started commercial operation of the newest car which is called N700A for the first time in 6 years on February 8 2013.
* Brand names, product names and logos are registered trademarks or trademarks of their respective companies.