Tag archive for Odaiba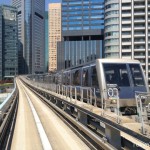 Yurikamome is a new traffic system which connects between central Tokyo and a waterfront area along Tokyo Bay. When you will go to Odaiba, you may get on this Yurikamome. Yurikamome means black-headed gull in Japanese. Black-headed gull is one of birds that are living at Tokyo Bay.
Search Hotels
*Tokyo hotels present better rates just now. Do not miss it.