What is Roppongi Hills
Roppongi Hills is a redeveloped place where is an old and crowded residential district at Roppongi. There are high-class apartments, aggressive company offices that have edges, a luxury hotel, a flagship TV station in Japan, a radio station for Tokyo, many high fashion stores and restaurants, movie theaters, a museum and an observation deck in Roppongi Hills. Above all, a big and tall building called Mori Tower is a landmark of Roppongi Hills.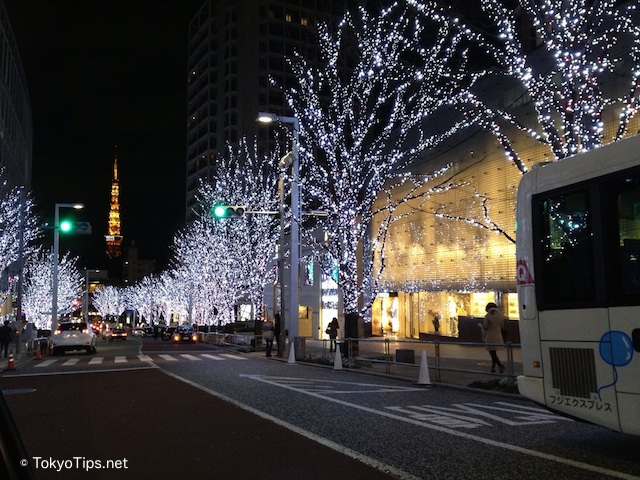 Commercial Facilities
Ordinary people can enter to commercial facilities which are outside the zone of office area. But inside of Roppongi Hills is a little complicated. Maybe you lost your way once at least. But it may be fun.
Keyakizaka Street
Keyakizaka street is a beautiful street which is through Roppongi Hills. Zelkova trees along the street are illuminated by many LED lights in winter.
Tokyo City View and Mori Museum
Tokyo City View is an observation deck in Mori Tower, and Mori Museum is a museum besides Tokyo City View. When you enter the observation deck and the museum, you need its entrance fee in sets as 1,500 Yen. Depend on the weather, you can go the roof top of Mori Tower that is the top of 53 story building with extra fee pay of 500 Yen.
Tokyo Internatinal Film Festival
Tokyo International Film Festival is held at TOHO Cinemas Roppongi Hills and some other venues every year in autumn.
Nearest Station
Roppongi Hills is connected from Roppongi station of Hibiya Line directly underground.
These information are as at the time of posted. They may be changed after posted.